Barcelona Postal Express – Ladies of Barcelona




On February 12th 1904 the Aragonese Federico Gomila opened a business in Barcelona/Spain, Cataluna 4 (expanded soon to Canuda 4 to 8) - documented in the following article printed in the newspaper "La Dinastía" (see page 2):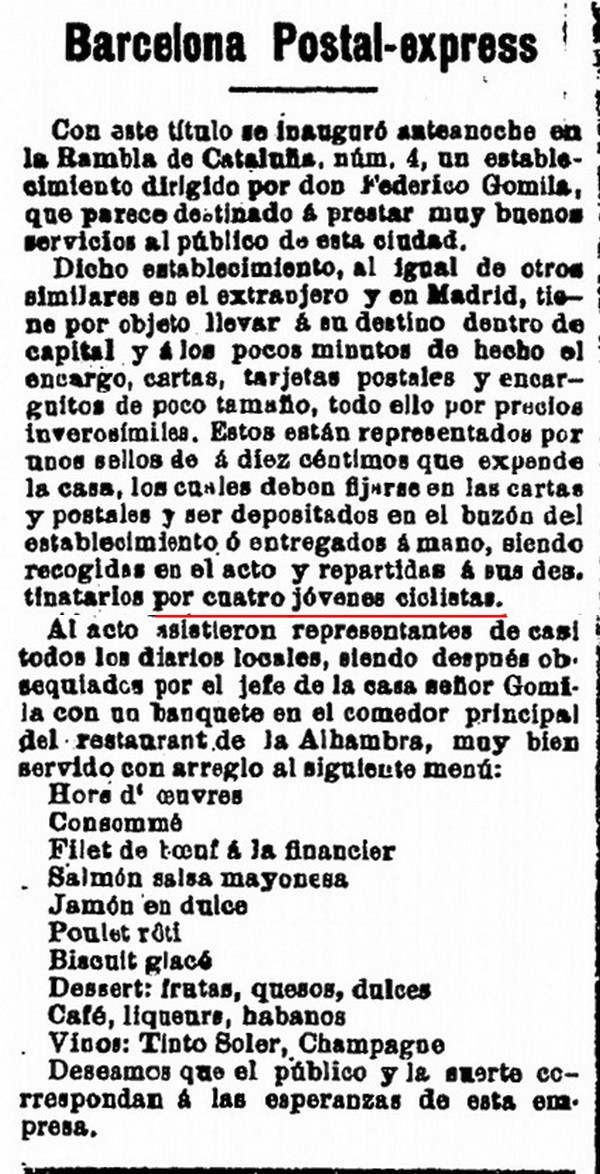 Gomila offered a messenger service for the delivery of cards, postcards and items of low weight within the city borders of Barcelona. The delivery was made by four young cyclists. For the delivery fee of 10 céntimos stamps with 30 different motifs were printed in sheets of 5 x 6 stamps:
The above order corresponds to the arrangement in the sheet. Most of the pictures above have a link, which leads you to the corresponding postcard. The motifs show artists (Geslin called them the "Ladies of Barcelona") such as the opera singer Emma Calvé on stamp no. 03 in Carmen: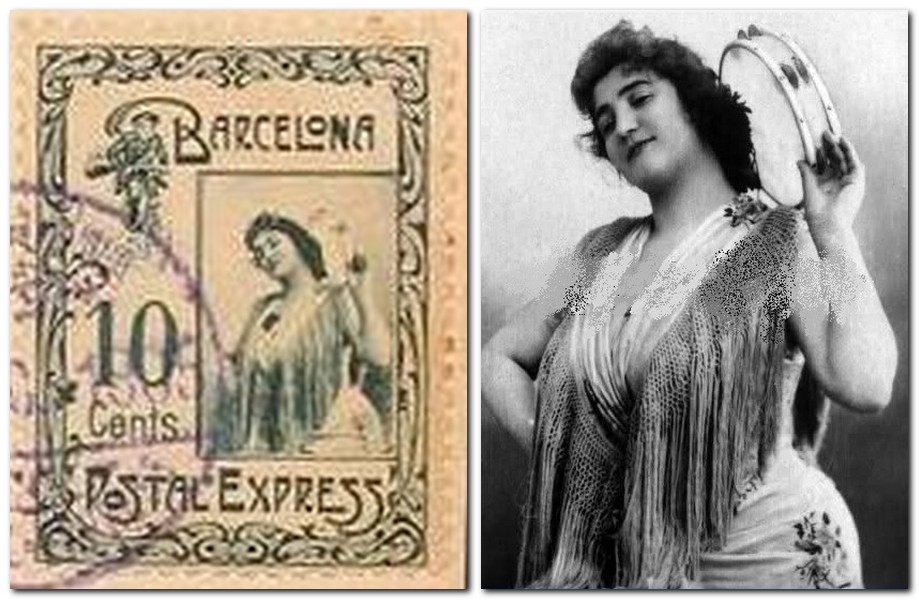 The stamps were available at the following face values:
Face value      Remark/sample link
5 Cents.         color: black - promotion material (see complete sheet)? Mail forwarded to the Spanish Post sent to recipients outside the city borders of Barcelona? It is told that it was also combined with 25 Cents.
5 Cents.         color: blue-black and blue-green- standard tariff
10 Cents.        color: black - standard tariff
10 Cents.        color: blue-black and blue-green - standard tariff
10 CTS           OVP on 5 Cents. (handwritten)
10 CTS           OVP on 5 Cents. (hand-stamped)
10 CTS           OVP on 1 Petas. (hand-stamped) (not listed in Filabo catalog 2008)
10 CTS           OVP on 2 Petas. (hand-stamped)
25 Cents.        spotted on a decorative card; it is also told that it was combined with 5 Cents
30 Cents.        tarifa urgente
30 CTS           OVP on 5 Cents. (hand-stamped)
30 CTS           OVP on 10 Cents. (hand-stamped) interesting example: OVP as well on stamp as on card (not listed in Filabo catalog 2008)
30 CTS           OVP to 50 Cents. (handwritten); never spotted
30 CTS           OVP on 1 Petas. (hand-stamped)
50 Cents.        color: black - essay? spotted on a decorative card (see below)
50 Cents.        color: black OVP with ...? (Filabo catalog no. 12PEB) - never spotted
50 Cents.        color: black and red/orange-brown - never spotted
1 Petas.          essay? only spotted overprinted with 10 or 30 CTS
2 Petas.          essay? only spotted overprinted with 10 CTS
It is incomprehensible for what these many values and stamps were needed. The standard rate was 10 Cents. On several postcards the value "30 Cents." can be found: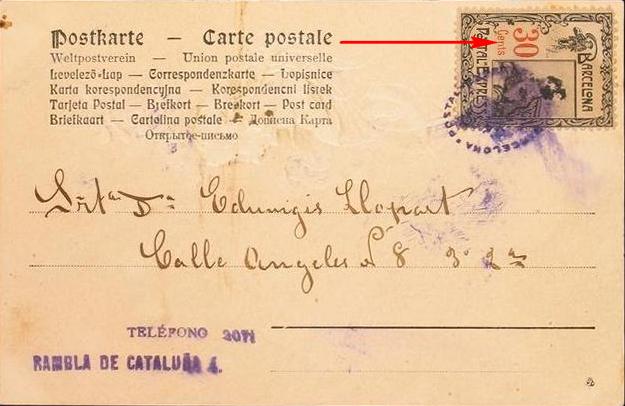 This rate probably includes the surcharge for an express delivery. "Tarifa urgente" is the description used in some auction catalogs. The orange-brown color of the value imprint should probably emphasize the urgency. In any case, this higher delivery fee was not required for a longer transport distance or higher document weight, as this postcard with overprinted "30 CTS" stamp shows: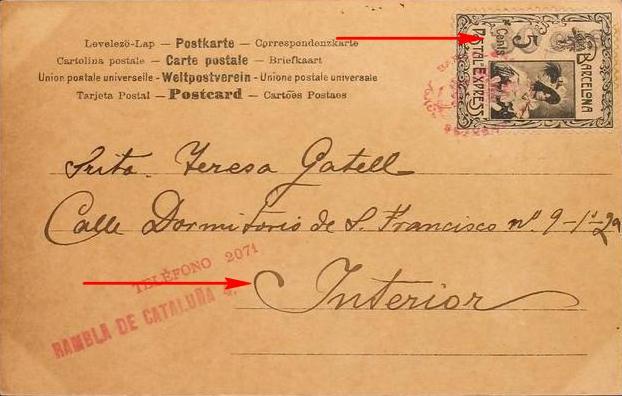 On this letter the word "URGENTE" is explicitly mentioned: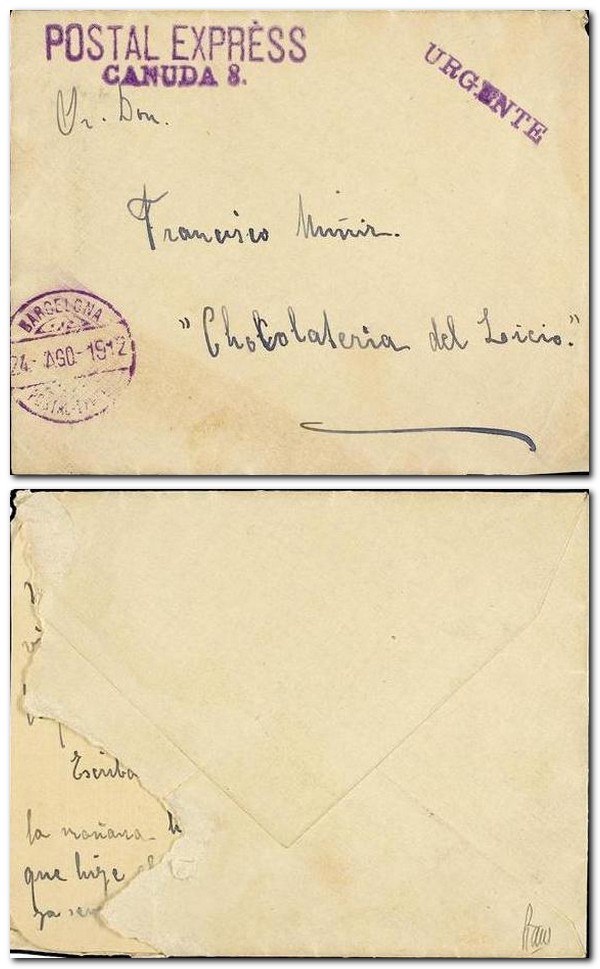 The messenger perhaps handed over the urgent items to the recipient personally ? 
The 50 Cents. stamp is found on this decorative card: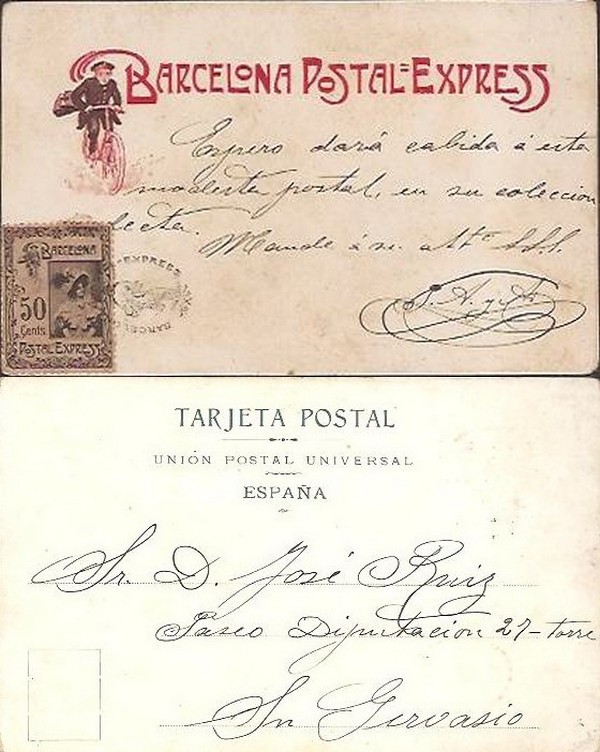 It looks "made" for a collector. The text confirms this "... I hope this modest postcard will have place in your collection....". Maybe the high face value of 50 céntimos includes the cost of the postcard?
This postcard, franked with a 5 Cents. stamp, was sent to Marseille in France: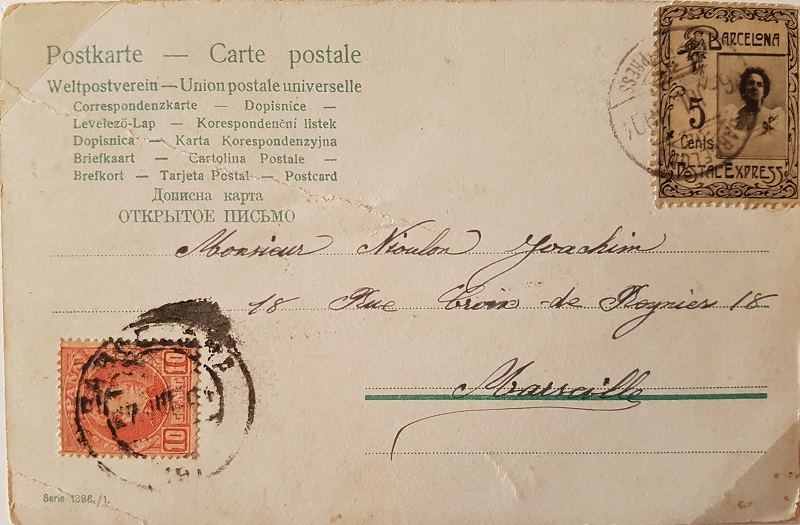 It is additionally franked with a stamp of the Spanish Post. The Barcelona Postal Express cancellation is dated July 6th, 1904 - that of the Spanish Post the day after. Maybe the postage was reduced from 10 to 5 Cents. because the card was only to be delivered to the nearby post office and not individually somewhere in Barcelona - who knows?  If you have any further evidence/documents about the use of this or other face values, please send a scan to contact[at]bicyclestamps.de.
The face value was apparently applied in a second print - probably for cost reasons: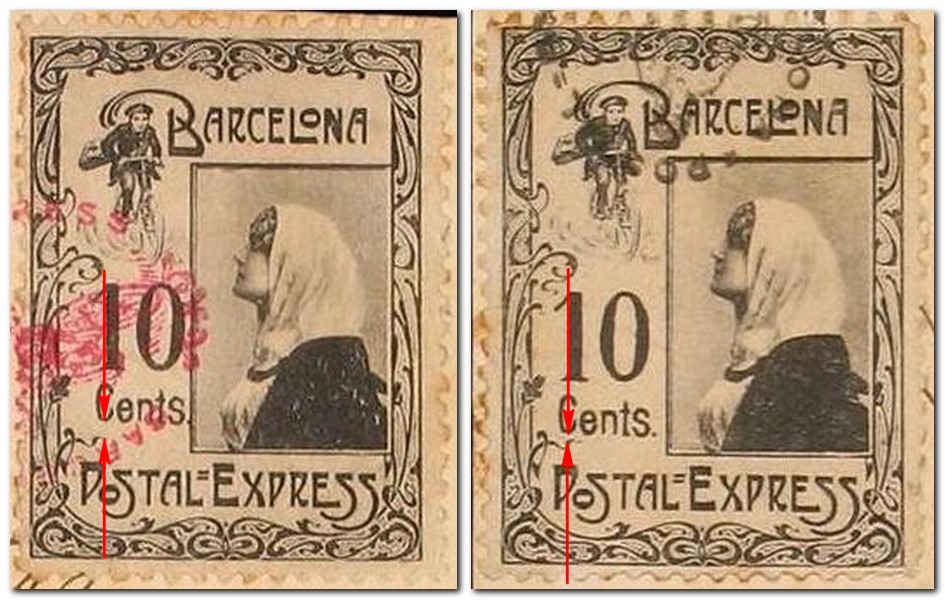 There are also several color variants - black, grey, blue-black, greenish blue, ...:

(The pictures are from different scanners. The color fidelity is questionable.)
as well as perforated and imperforated stamps.
The postcards shown in this article may have come from the pen of Mr. Federico Gomila or one of his employees, as he also worked as a public scribe (escritorio público) as this letterhead shows.: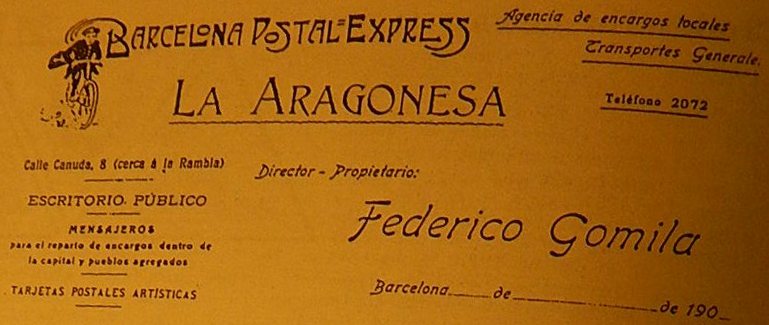 If so, this is an explanation that many cards are written in the same black ink. Almost all cards are addressed to "Senoritas" - as a little greeting, without many words. Here someone seems to have been in love with Adele particularly strong and long (1904-1906)
(please click on the picture if you like to see more)
Many cards have a date in the lower left corner of the address side, consisting of the word "Barna" and month/day/year: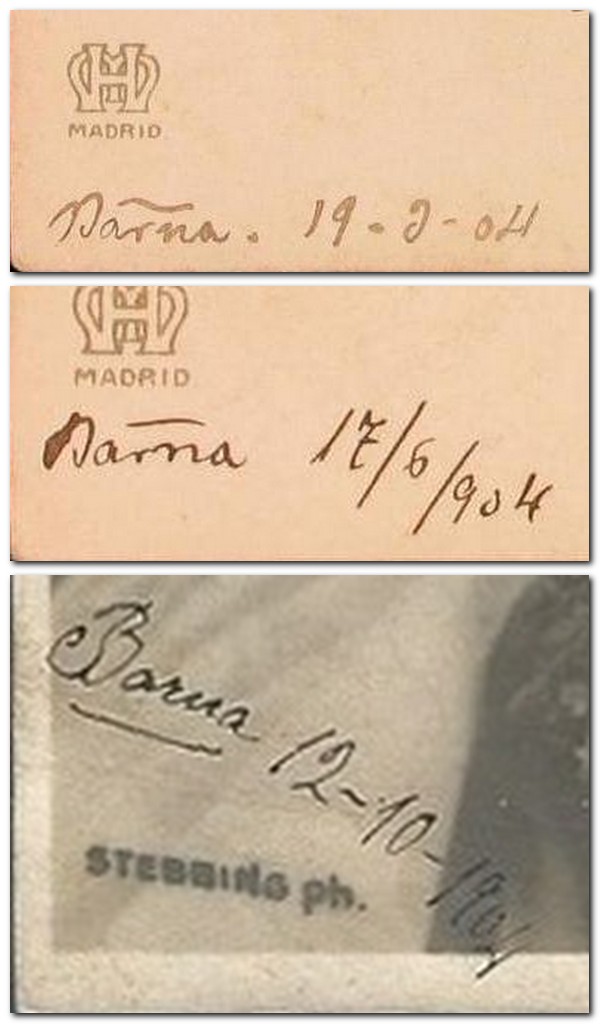 Barna = short name for the city of Barcelona. The last number is the year, even if this is not always obvious at first glance. At the turn of the century, one had to get used to the new years: 04 = 904 = 1904
On October 30th1906, the Spanish Government issued a decree with the following content: The installation of mailboxes, signs, advertisements or emblems similar to those of the official mail in public places by companies or individuals is prohibited (Article 2). The use of stamps or labels distributed by companies or individuals for the transport of letters, postcards or newspapers is prohibited (Article 3). That's why the Barcelona Postal Express stopped the printing and usage of stamps. Postcards with affixed stamps from 1907 seem to be relatively rare. Instead of stamps cancellations like these ones from 1907 and 1909 were used: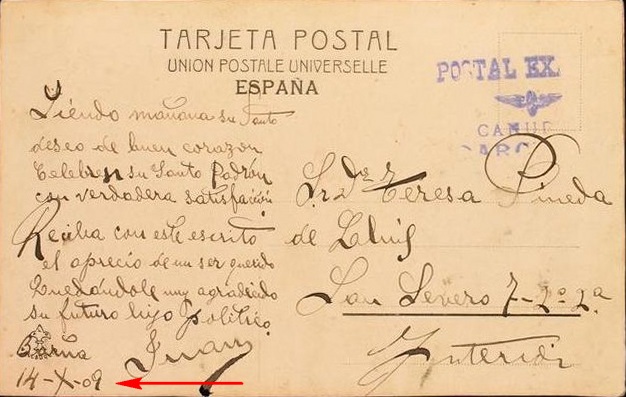 How long the business "postcard and letter delivery" was continued, is not exactly known - at least until August 1912 as the URGENTE-letter above demonstrates. The company POSTAL EXPRESS existed until the 1930s. Since its founding the company has been active in many business areas – as this advertisement in LAVANGUARDIA (Thursday edition, 8th December 1904, page 2) shows: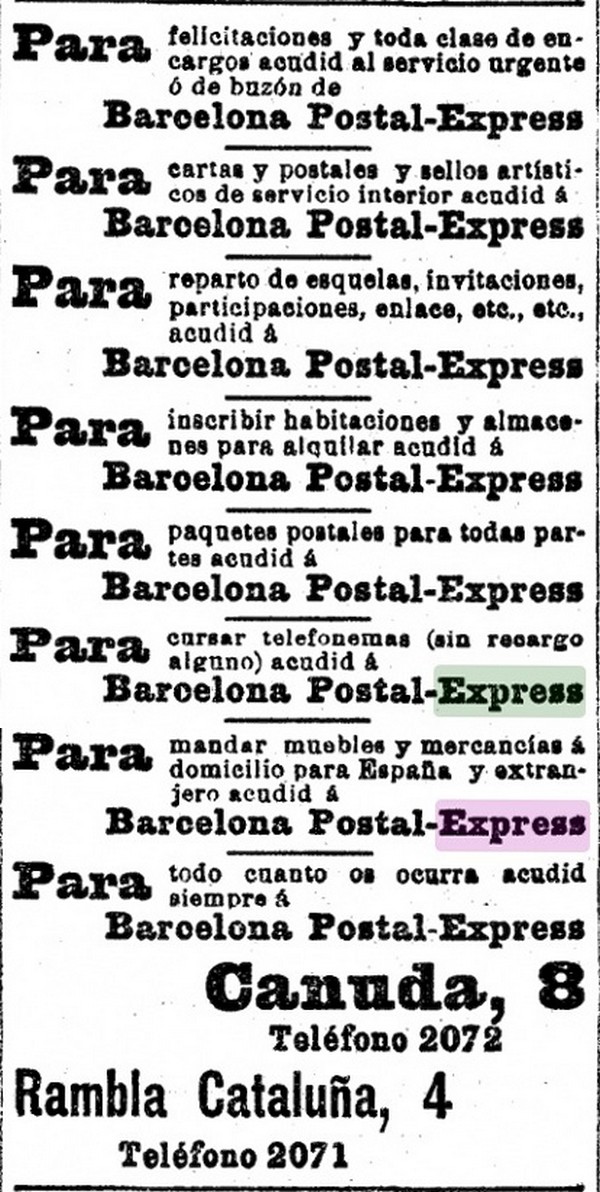 Translation: "Go to Barcelona Postal-Express for
                                          congratulations, all kinds of orders and urgent mail service
                                          letters, postcards, artists stamps and interior service
                                          delivery of obituaries, invitations, announcements, weding cards, etc.
                                          registering rooms and warehouses for rent
                                          postal parcels for all parties
                                          making phone calls (without any charge)
                                          sending furniture and home goods to Spain and abroad
                                          everything that happens to you"
Later, other fields of activity were added, including the sale of cars and houses - as evidenced by various advertisements in the newspaper LAVANGUARDIA:

Click to see original newspaper page.
Astonishingly, the "Barcelona Postal Express" stamps were first mentioned in a book from 1976. They were initially classified as cinderella by Charles and Francis Kiddle and by Christer Brunström. However, the article in the newspaper La Dinastía, the above letterhead and the many postcards that have appeared in the meantime prove that the company actually carried mail. The stamps are listed in the Spanish Filabo catalog. Some values - newly discovered in the recent years - are not included in the 2008 edition.
In any case, the Barcelona Postal Express issues enrich our topic "bicycle stamps collecting", and from the combination of the 30 ladies with the numerous face values, overprints, color and perforation variants an exclusive, many hundred objects including collection can be put together. All you need is a well-filled wallet and a lot of patience.
And maybe there will soon be a revival, because in memory of the last stamps used 110 years ago, there was a special night delivery on the 18th November 2017 by our fellow collector Jordi, who lives in Barcelona: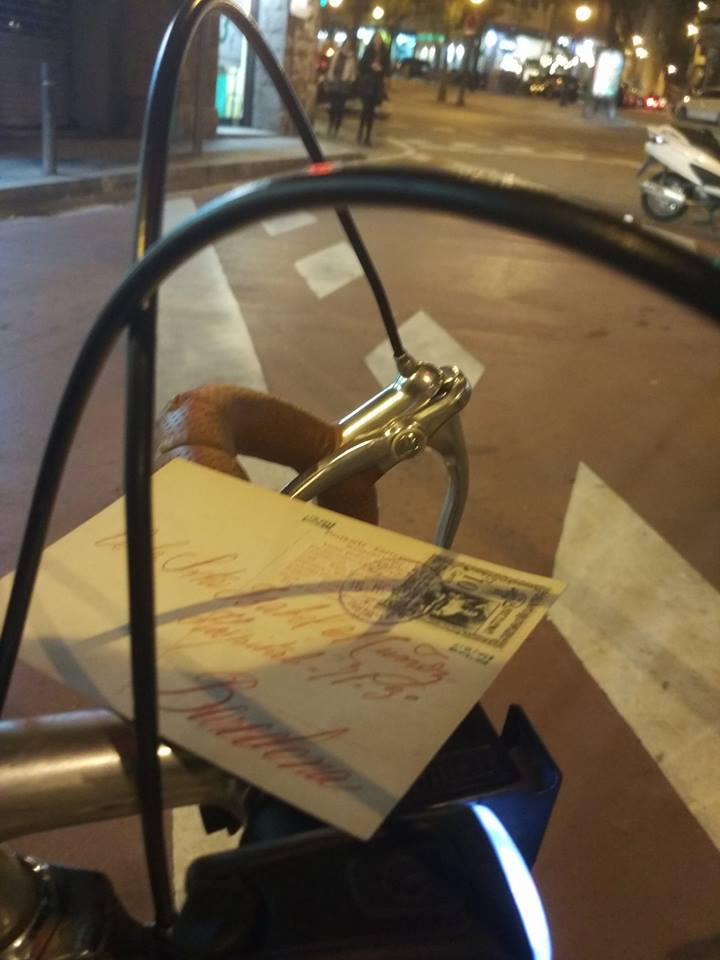 In the online catalog of BICYCLE PHILATELY you find these items in the category local stamps. To view all Barcelona ladies ask for free registration per email This email address is being protected from spambots. You need JavaScript enabled to view it. and thereafter login.
---
References:
"Le cycle et la poste", page 84 - 87, Jean-Pierre Mangin et René Geslin
"SPAIN" by Christer Brunström (editor and author): ATALAYA – Cinderellas, "dead" countries and other oddities, 1988, Vol. 13, No. 2, page 8 and 10
"Cycling Post" by Charles and Francis Kiddle: Stamp Magazine (UK), November 2004 (see reprint in BS Magazine 52, page 18/19)