Australia ATM ---- Cycling Kangaroo
The Australians are a sports-mad nation. This is also reflected in their postage stamps - here e.g. the boxing kangaroo on a bicycle: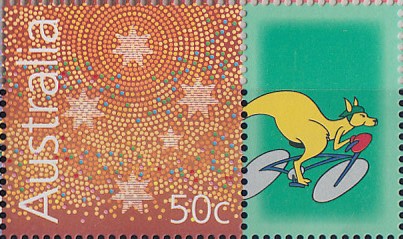 The following Australian vending machine stamps (counter printed stamps) are showing different imprints at the bottom:  HAYMKT, REX, 2007 WPFG, Salisbury 2011, TDU Adel 2010,  PERTH GPO: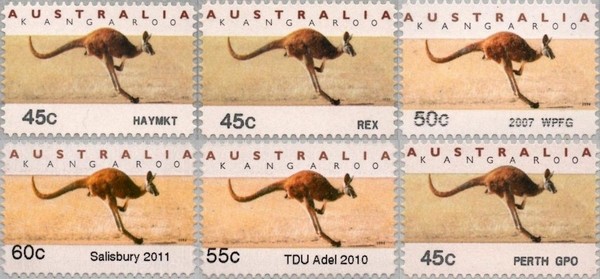 Which kangaroo has a reference to cycling? Well - it is the one with the imprint "TDU Adel 2010":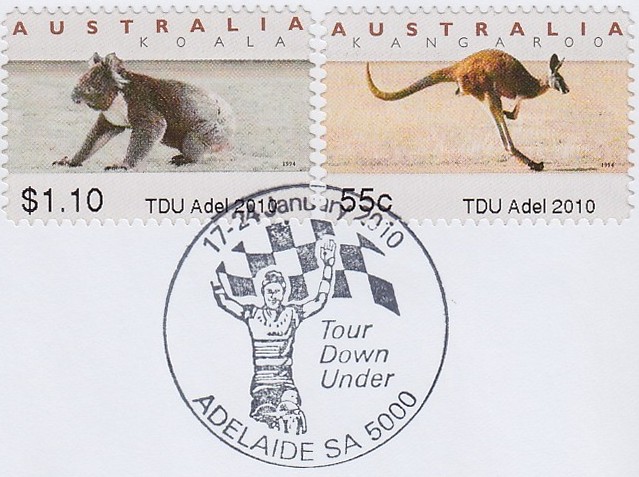 TDU stands for "Tour Down Under" (officially: Santos Tour Down Under) and "Adel" for Adelaide/South Australia. This cycling race on a circuit around Adelaide was started the first time in 1999 and is considered to be the most important in the southern hemisphere.
Although the above jumping kangaroo was supported by this Australian Team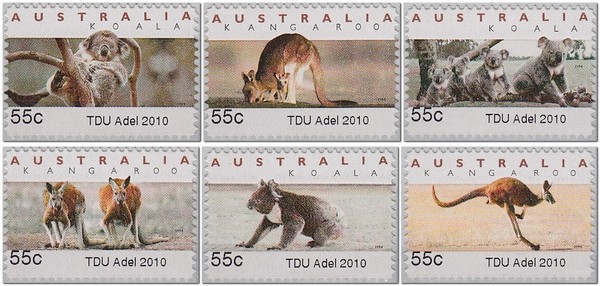 the winner in 2010 came from Germany: André Greipel. But in the following year Cameron Meyer/Australia made it with the same team but with more money in the cash register (increased postal rates from 55 to 60 cents):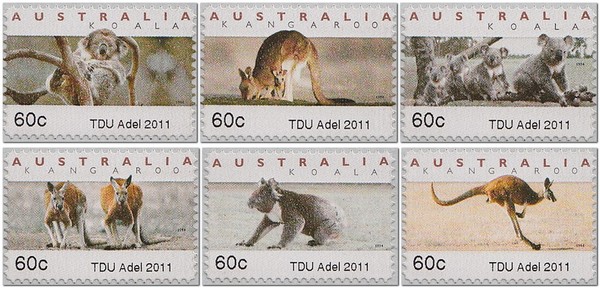 On the FDCs with the definitives "koalas and kangaroos" four motifs are found with other face values: AU$ 1.10/1.65 in 2010 and AU$ 1.20/1.80 in 2011: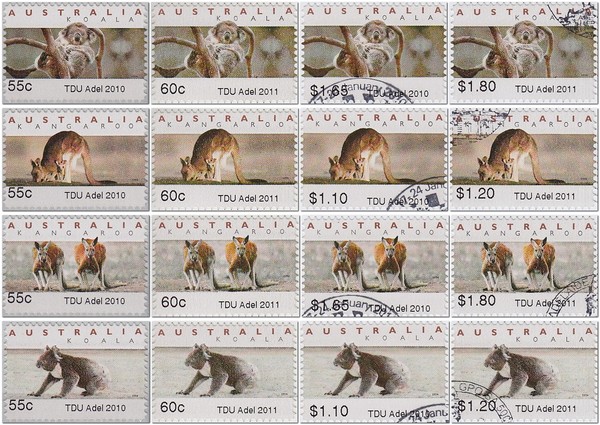 It is doubtful whether other values exist. These stamps were originally an experiment of the Australian Post for an electronic sales system. These so called counter-printed stamps were produced by Pemara Labels. The post office of issue and the stamp's value are printed at the base of each stamp by a special printer developed by Tritech Electronics - therefore also the name TRITECH ATM for these issues. Nowadays these ATM are only used at special philatelic events. Postally used stamps are very scarce since about 2000. They may be found if someone posted an overseas letter as a souvenir for a friend. So, keep your eyes open – not only for TdF (Tour de France) but also for TDU..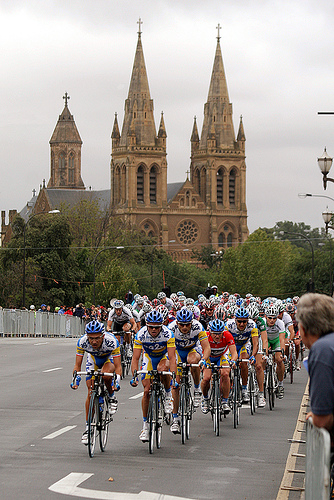 St Peter's Cathedral - Adelaide
---
More information about Tour Down Under: wiki (German)
Postcard with the information about counter-printed stamps
Reference: Picture St Peter's Cathedral (wikimedia - Creative-Commons)
Inspired by: IMOS Internationale Motivgruppen Olympiaden und Sport : Eine seltsame Radsportausgabe: Tour Down Under in Australien; IMOS-Journal 169 (Februar 2016), Autor: sportphil, Date: 19. May 2015
Who knows more about the misprint "TDU Adelaide 20" (January 17, 2010)?
---
 Thanks to Harry and Joy Lower, Greenwith/South Australia (suburb of Adelaide) for providing above information and philatelic material.